The Wise and The Wild (Systemic Industry Jamming)  How to use systemic problem solving to create an ideal music industry
Translated from a Hungarian article Ne a problémán lovagolj, hanem egy ideál megvalósításához keress partnereket by RONAIANDRAS, about a speech given at the World Music Expo (WOMEX, Budapest, 21-25 October 2015) by Hagar Graiser
How the music industry is rethinking systemic problems and searching for permanent solutions was a thought-provoking keynote given at the WOMEX by Hagar Graiser, South African industry analyst and festival organizer.
The WOMEX conference offered many other presentations and roundtable discussions. They were running parallel, so we could not watch all of them; from those we have seen, South African Hagar Graiser's presentation was the most exciting. Hagar works in many areas of the South African music industry, she is a festival founder, strategic consultant, etc. She took part in several music industry conferences, and believes that the discussions usually focus on the problems, not the solutions. If someone tells a story of success, it stresses that "I was successful despite the fact that …" and not that "I became successful because …" – making it difficult to spread the good examples.
The music industry uses the Biomatrix theory approach that has been developed by natural and social scientists; here you can read more about it. It serves to identify the problems of different complex systems and develop solutions which take into account that certain elements of system change will affect other systems. Of course, such is music industry: complex and seemingly chaotic. Focusing on a single problem with a single player will not help to unravel the whole issue.
The problems belong to different levels and dimensions (these figures will help in understanding). For example, music distribution belongs to organizational level and technological dimension, while state intervention in the music market belongs to social level and political dimension. This approach is used to "zoom out" of certain problems to see the whole system and then to "zoom in" to see the issue in its proper place. When looking at problems, we first need to know what type of solution we are looking for: if the system of players is basically satisfied, and a problem in one specific area needs to be solved, or if it is not possible to create "win-win" situations for all the players and the whole system needs to be redesigned.
At the various conferences that Hagar Graiser took part in, she used to do the following: the current industry players spelled out their problems and created the ideal state. After that they developed three to five strategies on how to achieve this ideal state, or at least how to approximate it. Hagar said that a big problem of the music industry conferences is that there is no continuation, the achievements are not recorded, so we start the conversation from the same place again and again. For this she developed an interface called Open Music, where you can see two sides of the Biomatrix visualization: at the various points of the music industry "chain" the problems and suggested ideal solutions are "suspended". The music industry players themselves are able to place and see it all. The live music supply chain is below, you can see the recorded music supply chain here, the images can be expanded as well.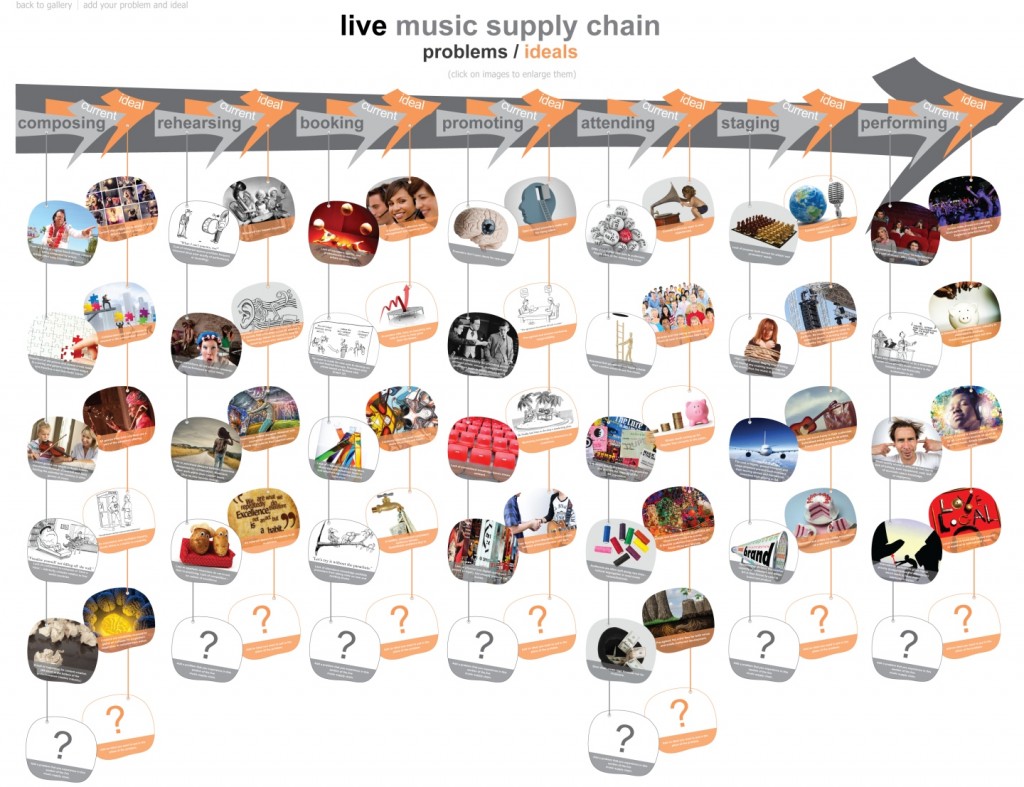 Hagar Graiser said that she is often accused of being idealistic. She also knows that, for example, there are industry players who – at least in the short term – point to the lack of transparency of profit, and therefore are not interested in a systemic analysis and solutions. However, if there is a crisis, it always increases the willingness of everyone to take part in the common thinking; it is important to ask the question whether the system we are a part of really serves the interests of all of us. It is important to recognize that no single actor can ever solve the problems of a complex system, and we are all at the same time part of the problem and the solution. The ideal – perhaps available only decades from now – is "in charge of the citizens of the music industry " with industry players who are each making decisions not only in their own short-term interests but also for the benefit of the industry as a whole.
After the lecture, discussion arose on how to generalize the experience of the South African music industry. According to Hagar it is surprising how many music industry players struggle with similar problems in different regions. I suggested to her the Music Industry Report that Hungary should attract 727 thousand to reach the European average rate of visitors to live music venues.
"We also have this problem, because where there are many people struggling to buy food, there are not many people that are going to spend on music" – said Hagar. The "public good" task would be added in the same way as the others, that is, first setting out the ideal situation: country where everyone is interested in music, watching it and willing to spend on it. What strategies can bring us closer to this (of course unattainable) IDEAL? We need to look for solutions not only within the music industry, but also outside, for example in the education or in the technology sectors. Let's say that kids have to listen to a variety of music from a young age, compare the alternatives (South Africa) to what can be heard everywhere (American pop music) and discuss why they like it or not.
To realize the strategy – we cannot change a system alone – we need to find supporters. For example, the implementation of education programmes need sponsors. It is important that "we look for problems, but also for the ideals. We will find supporters to bring about the ideals sooner or later"- said Hagar, who also revealed that she had been told countless times no. "I always ask back: why not? Is it because you cannot? If it turned out that because someone else said no, I looked for him, and I asked him why? – and so on and on." And of course when consulting the ideal and strategies among the various players, you also have to be open to their feedback and to the fact that the ideas can change, be refined.